gratis cd en sticker voor elke nieuwe abonnee!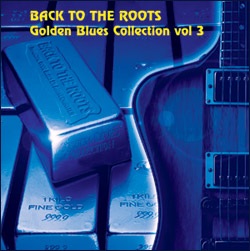 Word nu abonnee en ontvang deel 3 uit onze eigen compilatiereeks 'Golden Blues Collection' volledig gratis!

Net zoals de vorige twee uitgaves, biedt ook deze cd een gevarieerde greep uit het internationale aanbod, afgewisseld met het betere blueswerk van eigen bodem. 'Golden Blues Collection 3' is niet in de handel verkrijgbaar. Het is een gratis geschenk voor wie op Back To The Roots is geabonneerd. Ook nieuwe abonnees krijgen de cd opgestuurd (aanbod zolang de voorraad strekt). Op deze manier laten we de lezer ook auditief kennismaken met de artiesten waarover we schrijven.

samenstelling 'Golden Blues Collection, vol. 3':
1. John Németh: Magic Touch
2. Dicky Greenwood: Let Your Hair Down
3. Tomcat Courtney: Railroad Avenue
4. Charlie & The Welfare: Crank It Up
5. Eddy Clearwater: Hypnotized
6. Brickyard: The Echo Of My Soul
7. Thorbjorn Risager: You Can Have It Your Way
8. Jive For Your Life: Jump And Jive Tonight
9. Rod Piazza & The Mighty Flyers: She Wants To Sell My Monkey (exclusieve live-opname)
10. Howlin' Road Dogs: Mission Bell
11. Dave Riley & Bob Corritore: I'm Not Your Junkman
12. The Robbert Fossen Band: Living The Blues
13. Eric Lindell: Mind Your Business
14. Trash Hombres: It's My Soul
15. Michael Burks: Love Disease
16. Phil Bee & The Buzztones: My Heart Is Burning
17. Jerry Waddel: I Got To (exclusieve live-opname)
18. The Hellhound Blues Trail Band: Drive Me To Memphis
19. Johnny & The MG's: These Boots Are Made For Walking

Elke nieuwe abonnee krijgt ook onze fraaie sticker cadeau. Wie die op zijn of haar wagen kleeft, maakt kans op een fantastisch cd-pakket. Onze medewerkers kijken met argusogen uit naar wagens met een BTTR-sticker. Regelmatig publiceren we in het blad de nummerplaten van de winnaars! U kunt extra stickers bestellen door overschrijving van 1,50 EUR per sticker op rekening 775-5821495-61 van vzw Back To The Roots, met vermelding 'sticker'.